If you have had a hernia, chances are you've had a hernia mesh. Hernia meshes are used to treat hernias by providing additional support to the damaged area. However, now thousands of hernia mesh recipients are taking hernia mesh manufacturers like Atrium, Bard Davol, and Ethicon to court over serious complications caused by hernia meshes including infection, organ perforation, and migration.
A hernia mesh is a common tool used to repair internal damage that was caused by a hernia. According to the FDA, a hernia occurs when an organ, fatty tissue, or an intestine squeezes through a weak spot or hole in the surrounding tissue (1).  Sometimes referred to as a "surgical mesh" or "Physiomesh®", hernia meshes are designed to provide support to the damaged or weakened area as it heals over time.
Since the 1980's hernia meshes have increasingly been used to help reduce the rate of recurrence. Hernia meshes can come in multiple forms, including sheets, patches and even plugs. Typically, hernia meshes are made from synthetic materials and can be inside a patient for a lifetime.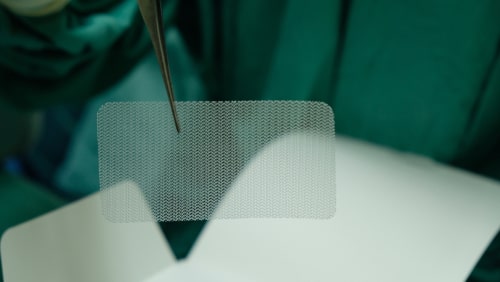 Thousands of Americans have had hernia meshes placed inside them. However, now more and more patients are taking hernia mesh manufacturers to court over poorly designed products that caused serious side effects.
Why Are There Hernia Mesh Lawsuits?
Hernia mesh manufacturers have been accused of marketing their products for surgeries that usually would not require a hernia mesh, including for the repair of smaller hernias that could be treated without the use of a surgical hernia mesh.
Additionally, thousands of Americans have suffered serious complications and side effects after having a hernia mesh placed. In the early 2000's a large wave of mesh manufacturers began to hit the market, taking advantage of the FDA's 510k clearance process, which did not involve any extensive or long term safety testing.
Unfortunately, many of these hernia meshes were defective, and lead to complications for patients. Some of the side effects of a hernia mesh may include:
Internal infections and pain
Bowel obstruction
Movement of the mesh
Puncturing of tissue or organs surrounding the mesh
Mesh repair or replacement surgery
Mesh shrinkage
Reports of these adverse side effects began to surface as early as 2000, even though the use of hernia meshes increased drastically. Today, almost 90% of all hernia repairs are made using a hernia mesh.
Despite the vast amount of reports, only a few hernia mesh products have been removed for sale. In 2016, after thousands of serious injury reports, Johnson & Johnson®, the parent company of Ethicon® (a large hernia mesh manufacturer), withdrew its Physiomesh® Flexible Composite Mesh from the marketplace. However, there are still many other versions of Ethicon's® hernia meshes on the market today.
Common Hernia Mesh Manufacturers
Currently, there are many hernia mesh brands available on the market. Some of the brands most closely involved with serious side effects include:
C.R. Bard - Davol®
Coviden/Medtronic®
Ethicon (Johnson & Johnson)®
Atrium®
Hernia Mesh Revision Surgery
Unfortunately, the vast amounts of defective hernia meshes has lead thousands of patients to seek a hernia mesh revision or removal surgery. These surgeries occur when a patient has suffered from extreme pain or other side effects as a result of having the hernia mesh placed in.
A surgeon may decide to either completely remove the mesh or replace it. The vast amount of hernia mesh revision surgeries has also raised the alarm on the dangers hernia meshes may have.