Do you have a home garden or work in the agricultural field? If so, chances are you have been exposed to the herbicide Roundup®. Roundup® is a widely used herbicide that is toxic to humans, as it contains highly concentrated doses of toxic chemicals. So what should you do if you or a loved one have been exposed to Roundup® and are now suffering from side effects?
Now more than ever, individuals and families are filing suit against Roundup® for failing to disclose the dangerous effects of its products on the human body.
How the Roundup® Lawsuits Started
Originally developed in 1974, Monsanto's® Roundup® herbicide quickly rose to fame with its powerful weed-killing properties. One of the main ingredients in Roundup®, glyphosate, is a powerful chemical cocktail that can have adverse effects on human health.
Being used in both commercial and residential applications can increase exposure to this toxic product. Monsanto®, Roundup's® manufacturer, sells the product in different forms including sprays, gels, and liquids.
The product is regularly used in schools and fields, where children and athletes may even become exposed to the toxic chemicals inside Roundup®.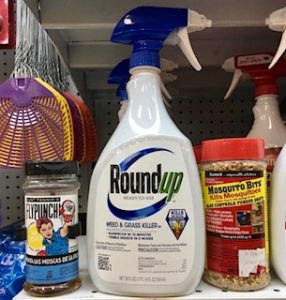 In 2015, the International Agency for Research on Cancer (part of the World Health Organization), classified glyphosate, the main Roundup ingredient, as a "probable human carcinogen". The agency was attempting to make consumers aware of the link between glyphosate and cancer development in the human body.
Soon, scientists began to sound the alarm regarding the dangers of Roundup alongside Monsanto's® lack of overall transparency when it came to the safety of their products. Some of the side effects associated with exposure to Roundup include:
Non-Hodgkin Lymphoma
Mantle Cell Lymphoma
B or T-Cell Lymphoma
Chronic Lymphocytic Leukemia
After being openly used all-around American households, farms, and businesses, many scientists have linked Roundup® to multiple forms of cancer. Many in the scientific community now believe that Monsanto® had failed to warn the public of the dangerous effects glyphosate can have.
Monsanto® has denied all claims that use of their product leads to cancer development and other side effects, contrary to the findings of the International Agency for Research on Cancer. Now, many Americans with advanced stages of cancer and a past history of Roundup® exposure are filing for compensation against the multinational conglomerate.
Some notable victories against Roundup® and Monsanto® include:
$2 billion awarded in punitive damages in the Pilliod RoundUp® lawsuit. The judge in the case stated that "There was clear and convincing evidence that Monsanto® made efforts to impede, discourage, or distort scientific inquiry and the resulting science"
$300 million in damages awarded to Dewayne Johnson, a former groundskeeper who had been exposed to high levels of Roundup®
$20 million awarded to Edwin Hardeman for his exposure to Roundup®
This video discusses the case where a San Francisco jury awarded Dewayne Johnson, a school groundskeeper with terminal cancer with nearly $300 million in damages. Johnson was exposed to Roundup® for years after using it in his work.
This advertisement is not associated with Roundup® or Monsanto®, a registered trademark of Bayer®, or any government agency.